Smurfs
24/7即时交付
在购买LoL账户后,我们的自动交付系统会创建您的独特订单。
终身保证
我们为所有账户买家提供担保选项,最高可达终生保护。
更改电子邮件和密码
你有机会改变你的新LoL账户的电子邮件和密码。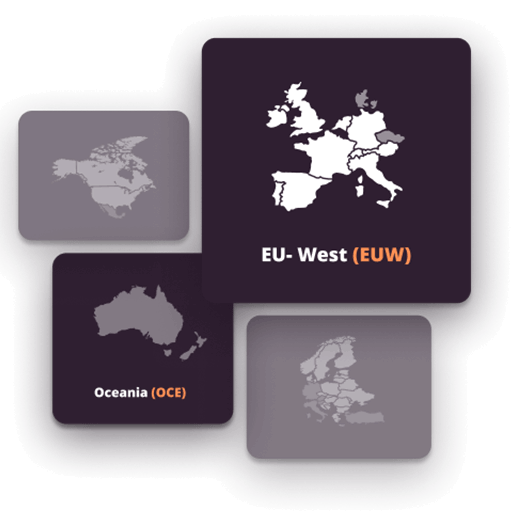 寻找你的完美账户
有各种BE,皮肤,和冠军规格。选择一个最适合你的需求的。
如果你需要帮助,你可以随时与我们进行实时聊天。
你可以延长你的保证。
直观和直接的购买过程。
Read more about BoostRoyal
Find Your Dream League Account in Just 3 Clicks!
Whether you're looking for an account jam-packed with champions, skins, or a rank to drool over, here at BoostRoyal, we've got you covered! Gone are the days of long wait times and dodgy sellers. At BoostRoyal, buying an account from us means instant delivery, 24/7 support, and a lifetime warranty. And, with helpful filtering options, you'll be on the rift with your dream account in no time. To order, select the account you wish to purchase and hit the buy button. Once your payment has been processed, you will receive your new account instantly through email. It's that simple! So, what are you waiting for? Find your dream League of Legends account today! Happy account hunting!
An Account Fit for a King
As our crown suggests, we only offer the very best smurfs and accounts! Whether you're looking for an unranked smurf with a vast amount of BE or a high-ranked account with every skin, we've got you covered! To ensure that our accounts are top-notch, we only allow reputably verified sellers to sell on our platform. In addition, we also offer a lifetime warranty on all of our accounts! So if there are any problems with your account, contact us, and we'll make it right.
What Are the Benefits of Buying an Account?
There are many benefits of buying an account, but the two main ones are saving time and money. Many accounts come with unlocked champions and skins, which means a much lower price than if you bought everything separately. Not only that, but you'll also save yourself a lot of time by not having to grind through the lower ranks. You can start playing at your dream rank immediately! If you're not sure which account to buy, our live chat support will be more than happy to guide you to the perfect account for your needs.